This site is dedicated to the old days when none of us slept, we lived in a room with a thousand corners, and beheadings were the norm.

#Highlander
(this is the one formerly found on quarterdeck)
now found on irc.starchat.net
or any other starchat server

#Highlander, the channel that will keep you sitting in front of it night after night until you've lost your job and your life and your house is auctioned off and all you've left is your laptop! -As noted by channel regular Atog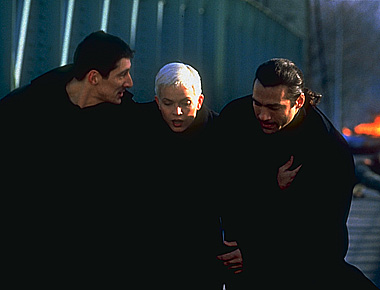 A race as old as Time
A Game of Life And Death
Those who walk the Line
And Watch with baited Breath
A fight For the Ultimate Gift
The Power Of all Others
To Strike Strong And Swift
To Call No one Brother
To take your Enemies Head
And when it is all done
All will be Dead
For In The End There Can Be Only One!!!!!!!
-The Bard

Come meet the people of #Highlander:
Ops The people with all the power!
Regulars Join the channel at any time... chances are good they'll be there.
Wanderers Good friends who happen to have busy lives, but we still see them around :)
Shadows Well, we used to know... most of them... umm... does anyone even know who some of these folks are?
We're all shadows now; we all got busy in our lives, although sometimes a few show up at the same time in a mini reunion... this page is here for the memories. For those of you listed, I'll still update any of your information if you'd like the old gang to be able to contact you.

What fun is IRC chat without... wavs!

Leave your mark in the Watcher's Chronicles:


Sign the Guestbook


Read the Guestbook

According to the web counter,
immortals have visited this page since August 1, 1996.


Write for comments and suggestions about this page.

---
---
---
this site last modified Sunday, March 30, 2003 2:48 pm

Home | Ops | Regulars | Wanderers | Shadows | Wavs | Read Guestbook | Sign Guestbook


.....